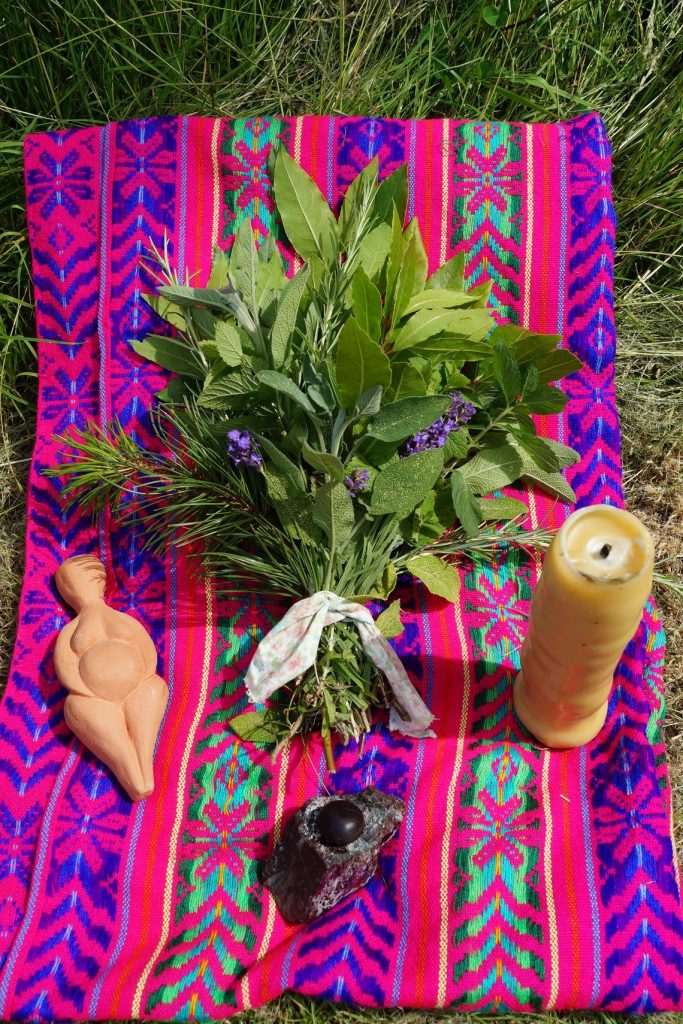 Birthing our babies is a pivotal moment in our life, it is one of our greatest rites of passage and a time to be celebrated, honoured and nurtured by those around us.
It is a time when we open ourselves up physically, emotionally and energetically and surrender a part of our old self to embrace our new role as mothers and parents. However, after our baby is born the focus quickly shifts from us to our baby and there is nothing to celebrate the huge transformation we have just made.
'Closing' ceremonies are a beautiful way to do just this. They are practiced in many cultures around the world to close the circle of birth. They help us to restore, rebalance and heal the body that has carried our babies from their home in our womb to their place in the world.
As a doula I like to offer this gentle and safe healing ritual after your baby is born as a way of honouring your passage into motherhood.
The ceremony I offer uses uses massage techniques taught to me by Rocio Alarcon, a Curandera (traditional healer), ethnobotanist and midwife from Ecuador. The techniques have been passed down to her through her maternal lineage and she has been practising this family wisdom for 50 years. It is a real honour for me to be able to share her traditional healing with women here.  
Benefits
Whilst you are pregnant your hips open to allow your baby to pass through your pelvis. This special massage helps to adjust the centres of energy in our hip area by 'closing' them physically and energetically. Rocio says that some of the pelvic pain women suffer from in our society could be because our hips are not closed after the birth of our babies.
The ceremony is usually carried out within the first 40 days after her baby is born, however the benefits can be felt at any time post-partum, even years afterwards! The ceremony can also be profoundly healing for women who have experienced baby loss whether this is during pregnancy, at birth or afterwards.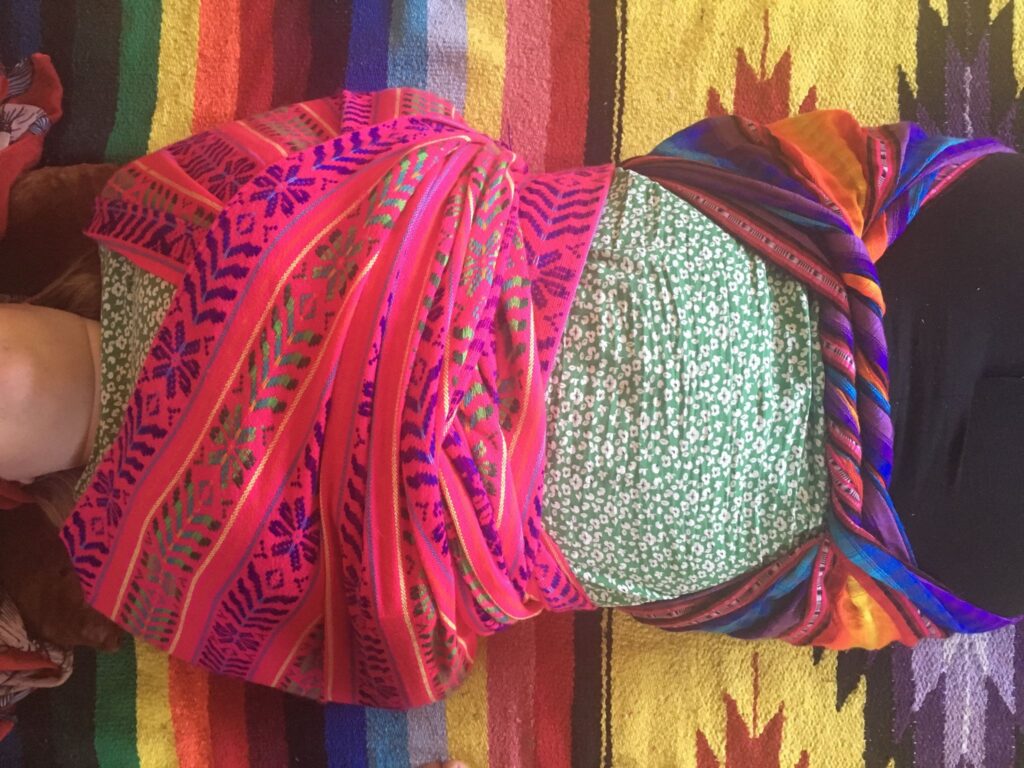 I highly highly recommend this gentle lovely ceremony to all women who have given birth or that have suffered trauma, miscarriage or anything related to fertility. Jo holds a beautiful ceremony.
Linda, Sealing Ceremony Client
The full ceremony takes around 2-3 hours and can be done in the comfort of your own home or in the calming space of mine. It can be performed after any kind of birth, however if you have had a caesarean birth, special care will be taken to ensure that you have healed well first. Partners and siblings are welcome to join in too. The ceremony is especially beautiful and works really well with a small group, so if you would like to invite the women-folk in your life to hold space and lovingly wrap you, this can be arranged too.
What is involved
We begin with a traditional Limpia cleansing ritual using fresh aromatic herbs. Together we will create the 'Escoba' of herbs to use during the ceremony which clears the body, mind and spirit of negative energies.
After your body has been cleansed, I will use my mantas (scarves) to relax your body from head to toe. I give special focus to your hip and sacral area and will gently massage your abdomen using Rocio's techniques. The massage can help to bring your body and organs back into alignment and strengthen the energy centre at your solar plexus.
To finish, I will use my manta (scarf) to massage and wrap your head, shoulders, abdomen, hips, thighs and feet. Afterwards I will cover you with a blanket to keep you warm while you integrate the healing.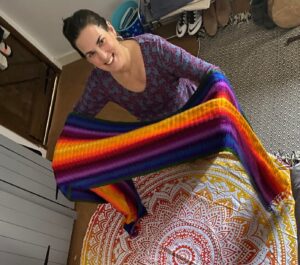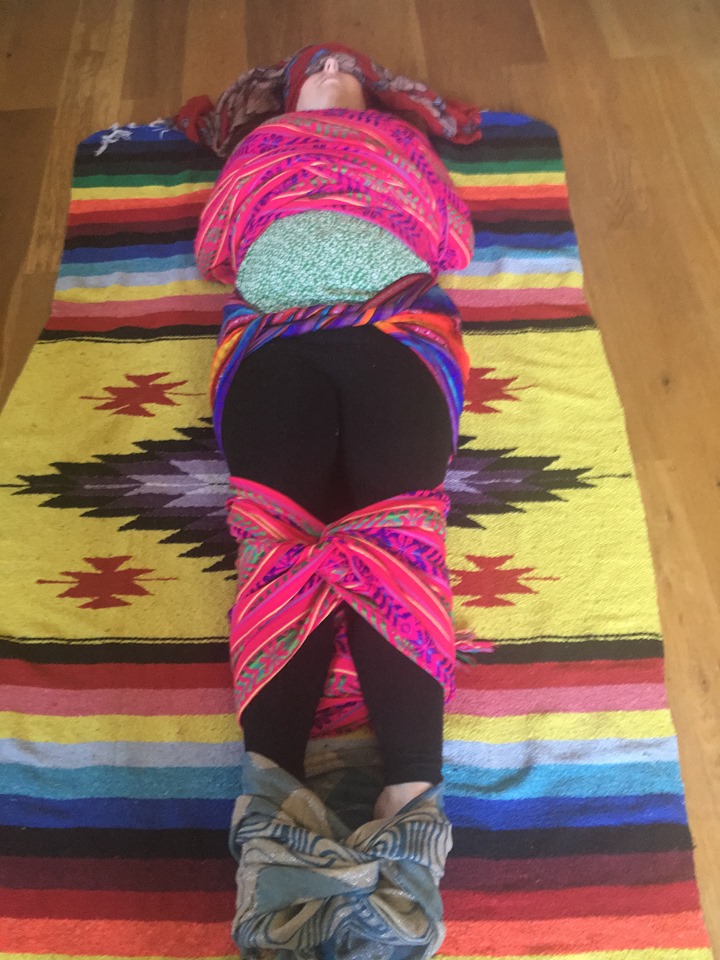 Whilst you are lovingly cocooned, you have the option of a sound healing with my medicine drum or I am happy to play relaxing music if you prefer.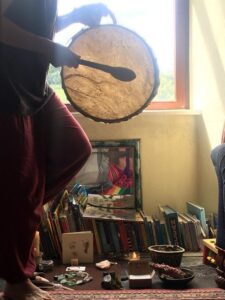 As we work through the ceremony I will talk you through each part as we go to ensure that you are feeling happy and comfortable.
Of the few rituals we have left in our society, there is nothing to celebrate our passage into motherhood. Once our baby arrives, the focus very quickly shifts from us to our baby. Pregnancy and birth is such an intense time for us both in body and mind, so wouldn't it be lovely to honour the birthing process and ourselves as women and mothers?
I don't think I have felt this elated in a long time, after having a Limpia ceremony outside in beautiful surroundings, a sifting of my hips and wrapping in scarves, ending with Jo drumming for me as I lay in total peace and felt utterly hugged.

It was so uplifting and grounding at the same time, so much so I went back for another a couple of weeks later. Thank you Jo for helping to bring back lost traditions and honouring our women.

Sophie, Sealing Ceremony Client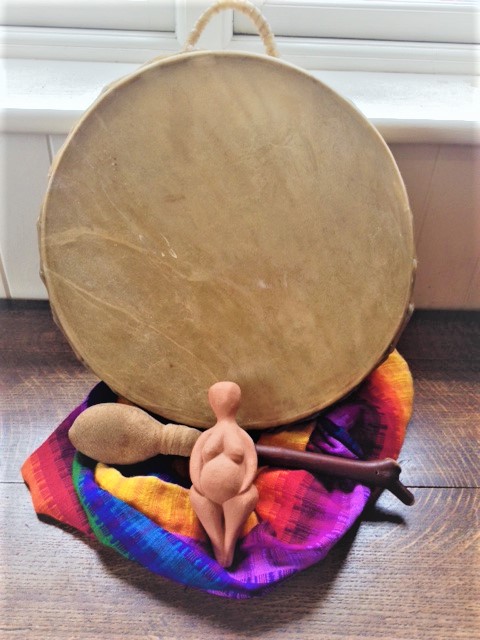 Your Investment – £80 for a two hour healing treatment and if you book me as your post-natal doula, I will offer a 20% discount off my healing ceremony. I may also need to add fuel costs to my fee (45p per mile) depending upon your location. A sliding scale can be offered to women who feel drawn to the ceremony, but who may not be able to pay the full amount. Please have a chat with me if you feel this may be you.